The Future of Kettlebell Design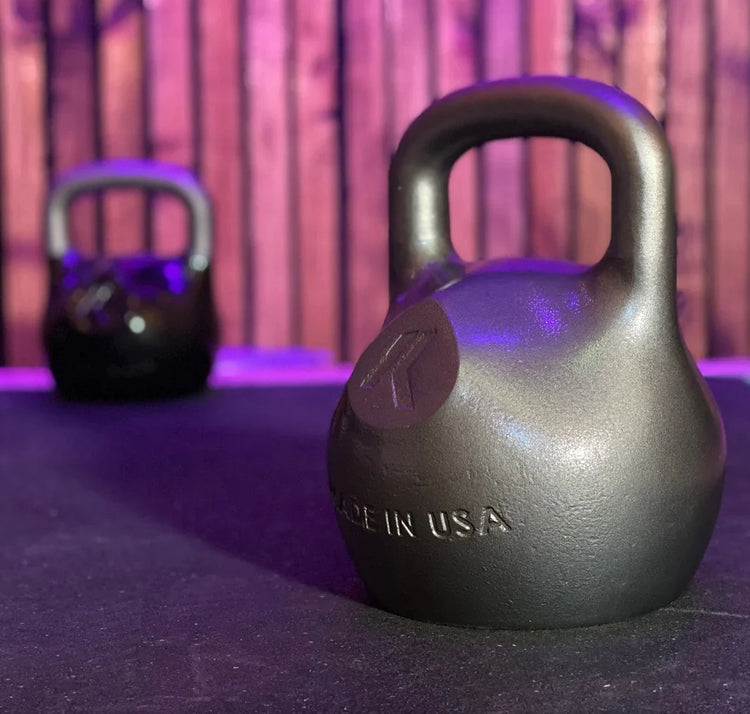 Pro Kettlebell's innovative design is reshaping kettlebell training with style & safety in mind
When it comes to kettlebell training, innovation has been long overdue – until now. Enter Pro Kettlebell, a brand that's redefining the fitness landscape with its revolutionary design. 
In this article, we'll delve into the game-changing features of Pro Kettlebell's design and why it's poised to become the future of kettlebell training thanks to the stable, flat face, raw metal handles, ability to add magnetic chips, and more.
Designed with a Stable Flat Face: A Steady Foundation For Success
Traditional kettlebells often wobble during pushups and other ground-based exercises, compromising stability and safety. Pro Kettlebell addresses this issue with its flat face design, providing a stable platform for your kettlebell pushups and elevated planking workouts.  You can even use Pro Kettlebells as a slant board when positioned this way.
 Say goodbye to the frustration of wobbly kettlebells and hello to a secure and effective training experience. With Pro Kettlebell, your foundation is rock-solid.
Raw Metal Handle Texture: Designed to Grip Like Never Before
Maintaining a secure grip is paramount in kettlebell training, especially during high-volume workouts. Pro Kettlebell enhances your grip with its raw metal handle.
Typically, iron kettlebells come with a clear coat applied to the handle to prevent rust in transit from overseas, and the first thing an experienced kettlebell lifter will need to do when they receive their new kettlebell is to remove the clear coat, as it won't hold chalk and increases the likelihood of skin tears and grip fatigue.
So, adding the unique feature of a raw handle was both a time-saving gesture and a performance enhancement for the future owners of these Made-in-USA bells.  
The signature Pro Kettlebell "racing stripe" on the handle is designed for a smooth top and underside with texture left on the sides for added grip, allowing you to execute exercises for extended periods with confidence and precision.
Hollow Design with Metal Chips: A Game-Changer
The pièce de résistance of Pro Kettlebell's design is its hollow structure, which accommodates their coordinating magnetic chip weights. This groundbreaking feature eliminates the need to switch kettlebells to adjust weight levels. 
Pro Kettlebell's Level-Up Magnetic Chip Weights make changing the weight of your kettlebell a breeze, offering convenience and efficiency like never before.  
The adjustable kettlebells currently on the market require tools and time to change the weights, which is just not practical in the middle of a workout. Level-Up magnetic chip weights come in 1kg/2.2lb or 2kg/4.4lb weights and are designed with a 95-lb pull magnet for safety, include a pull strap for easy removal, and take literally one second to install or remove.
Whether you're progressing in your fitness journey or fine-tuning programming workouts as an elite athlete, Pro Kettlebell's magnetic chip system design increases the efficiency and effectiveness of a kettlebell workout while saving on the cost and space of a second or third kettlebell. 
Pro Kettlebell is the embodiment of innovation in kettlebell training and design.
From the unparalleled comfort of contoured arm rests to the wide handle and two-hand window for limitless possibilities, the stable flat face for safer workouts, the raw metal handle texture for an unbeatable grip, the extra-wide base with a rim for added versatility, and the hollow design with magnetic chips for effortless weight adjustment – Pro Kettlebell is the future of kettlebell training.
If you're ready to elevate your fitness game and embrace a new era of kettlebell training, Pro Kettlebell is your ultimate partner in success. Say goodbye to limitations and hello to a world of possibilities with Pro Kettlebell. Your fitness journey will never be the same again.