Benefits of Kettlebell Workouts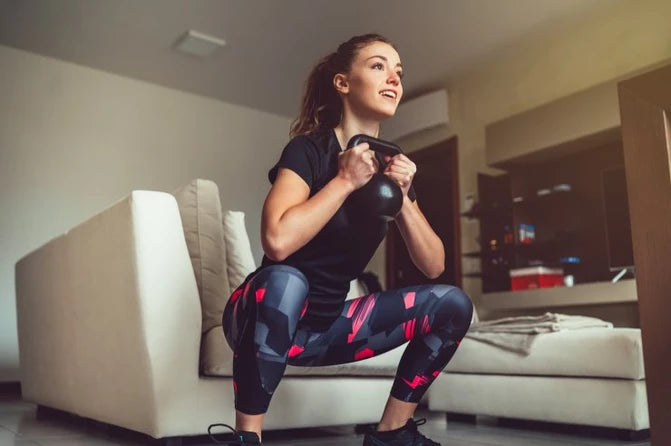 The kettlebell makes a great staple in any gym setting, with increasing popularity in home setups across the country. In fact, GQ reported on the "great kettlebell shortage of 2020," which explained how so many people decided kettlebells were a must at the start of the pandemic.
But what's sparking the interest in adding this piece of prime fitness equipment to their collection? Because of the kettlebell workout benefits, of course!
Here are a few reasons it's time to consider buying kettlebells for your exercise routine.
1.Kettlebells add variety to your workouts
Getting bored with exercise is common if you don't mix things up. One of the biggest benefits of kettlebell training? The variety and excitement. If you've never tried kettlebell exercise before, it's a chance to broaden your horizons and open your mind to new fitness methods. Plus, it can work so many of your muscle groups! Kettlebell workouts train the entire body, from the core, glutes and quads, to the hamstrings and back.
2. Kettlebells improve your balance and coordination
Kettlebell workouts are different because they utilize ballistic movements, which focus on using max acceleration over max weight. Because of this type of explosive and dynamic movement, you have to engage your core while considering the mind-to-body connection. Improving your balance and coordination will only allow you to enhance your technique even more.
3. Kettlebell exercises are easy on the joints
So many people assume that lifting heavy weights is the only way to gain muscle and lose stubborn pounds. False!
Not only is this inaccurate, but heavy lifting can also cause serious muscle and joint damage that could impact you for the rest of your life. One of the greatest kettlebell workout benefits is lifting less for greater results. Lifting lighter weights is easier on the joints and leads to the lean muscle you'll be proud of.
4. Kettlebell workouts are a great alternative to running (or other boring cardio workouts)
Kettlebell high-intensity interval training doesn't only provide strength training. It's also great cardiovascular exercise! The rapid movements can increase your heart rate just as much as a typical session of cardio, such as running or using an elliptical. This is an option to consider if you can't stand to be on an exercise machine.
5. Kettlebell workout classes are fun and motivational
Another one of the great benefits of kettlebells is the opportunity to learn from professionals and meet other like-minded people who want to achieve similar goals and results. A kettlebell class can open your mind to a different type of exercise and get excited to work out alongside others who want to improve their mental and physical health just like you do.
Are you ready to take advantage of the benefits of kettlebell workouts? Try one of our online kettlebell classes today!