Pro Kettlebell Workouts

Created by award-winning coach Nikolai Puchlov, and like no other. Training programs, exercises and tips for total beginners, experienced kettlebellers and competitive athletes. Join now and try it free first! Renew at $19.99/mo. or $199.99/yr.
Full disclosure : this training can be addictive
Stronger together
Pro Kettlebell's online training programs for fitness and sport were developed at Seattle Kettlebell Club, one of the largest and highest ranked kettlebell gyms in the world.
Just like at the gym, these workouts deliver fast results to beginners, pros, and everything in between, no matter your starting size or fitness level.
A Pro Kettlebell Workouts membership includes access to hundreds of fun, on-demand video classes and carefully crafted kettlebell training programs.
Most follow-along workouts are between 20 and 50 minutes in length and programs range from 3-10 weeks.
Each of our kettlebell videos are designed to be exciting and unique so that you never have to think about what to do to get and stay in your best shape - all you have to do is show up and press play.
Start a Free Trial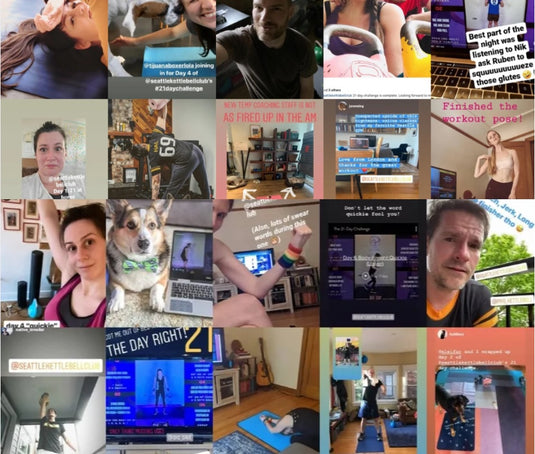 Format Easy to Navigate & Workouts are Hard
I've done several of the programs and sprinkle workouts as needed in my routine. They are challenging yet the format and coaches make it easy to follow and understand. I highly recommedn for those who are beginners and advanced in KBs!
Check These Guys Out
I'm loving the app! I'm so glad I stumbled upon these guys during a YouTube search for kettlebell workouts! I did a few of the [free] videos and decided I needed more! I love that the workout is displayed on screen, every exercise is described and demonstrated and that I can workout with a pacesetter and a coach with passion and personality 😃 I love that there's quick little 10 minute sessions and longer gruelling workouts to choose from, as well as a variety programs on offer I highly recommend ❤️
Five Stars
It's just what I needed. Excellent instructors and someone to see
doing the complete workout with me.
So Grateful
I just want to express my appreciation for the great work that you do. Your online workouts are professional and to the point. You don't take the easy way out by doing minimal coaching and don't talk to participants as if they were children, instead you coach all the way through the class with straight-forward pointers about technique and no cheesy waffle. I am very grateful that I found you guys, your work is really one of a kind!
Highly Recommend
This is an outstanding workout program with top-notch production, variety, informative coaching, and scalable to your equipment and ability levels. The attention to detail with this program is impeccable. I have been working out 4-5 times a week at home with the KettleSport and KettleFit programs and have seen great results. Highly recommend as a full-body workout that keeps you motivated. No cheesy scripts or phoney coaches - chatter is kept to a minimum and unlike so many other workouts, the focus is on YOU and you can feel how Pro Kettlebell cares about your success even through the screen.
Five Stars
I Feel Great! I love doing these kettle bell workouts online. I'm able to push myself as far as I want to, and yet I don't have to compare myself with a younger, fitter person who could clearly do more than me. I get a great workout and can do it every day without fear of injury. I love these classes, and there are enough options in routines that I never get bored. I highly recommend them!
Fun. Great.
Workouts l could never have come up with are varied and fun. Makes
working out at home really nice. Cannot say enough great things
about it.
Love the Structure
I have been loving the Pro Kettlebell classes online. The classes are structured in a way that I feel I get a good cardio to strength workout. The structure of class makes it feel like the class goes by fast. I started out with only one KB and that worked out well. I was able to get a second KB at same size to start working double KB movements for added difficulty. The classes give options for scalability at all levels.
A godsend
This content is absolutely gold. Methodically planned, professionally
done workouts. A godsend during shelter from home!
Variety & Modifications
This is a great all body workout. There's variation and it's a good
tempo. Nikolai's instruction encourages me to push myself at certain
times while also providing suitable modifications at other times.
Love It
I've been following the kettlebell program for a year and I love it!! New progrma that are time allotted and variety keeps my muscles guessing and keeps me coming back!!